It's finally FRIDAY. I had my doubts this day would ever come but it's here and it's glorious. The sky is blue, the sun is shining, the temperature is… okay it's a little colder than I would prefer but I'll take what I can get. Sun is the key piece of this puzzle.
I'd prefer this but I'll take what I can get when not on a tropical island.
Last night's Pilates class was so hard it hurts to lift my arms above my head. It hurts to laugh. It hurts to move any part of my body more than about an inch in any direction. I was however pretty pumped I was able to do the advanced variations of all the exercises we did. Except for one because I felt like my shoulder may dislocate from its place of origin. Sara you are my least and most favorite person all in the span of one single hour. I curse you and love you all at the same time.
After experiencing some *ahem* unwelcome symptoms the past few weeks, and doing some research it's occurred to me I have a Gluten intolerance. There is nothing fun about giving up my beloved all-purpose and whole-wheat flour filled life-sustaining foods. However cutting out Gluten for just 3 days (I was on a roll Sunday-Wednesday then indulged Wednesday night, and got back on the wagon Thursday and today) made any and all symptoms disappear. I have zero stomach "issues", no headaches, and more energy… I think I'm on to something here. Starting yesterday I embarked on a 10-day Gluten-Free trial run… I'll share more about that sometime next week. However Tony's Pizza in North Beach makes one hell of a Gluten-Free Prosciutto/Arugula pizza, I'll tell you that much. Couldn't even tell a difference.
We were on double retriever duty at Pilates last night as well. That's how you know you're in for a solid Thursday. As soon as you see these faces your entire day of stress just melts away. No endorphins necessary (but obviously welcomed). Reason #4570386 we need to get a puppy.
I have been obsessed/addicted with sweet potatoes as of late. Regular potatoes just aren't doing it for me. Chopping up a sweet potato, tossing it in a bit of maple syrup and cinnamon then baking it @ 400* for about 30 minutes is my idea of perfection. Clearly I lead an exotic and high-maintenance existence.
There are about 80 things I *need* from Lululemon right now. The #1 item being their new Marathon Singlet. So what if I don't have plans to run another marathon anytime soon? Look at that detailing! I need this.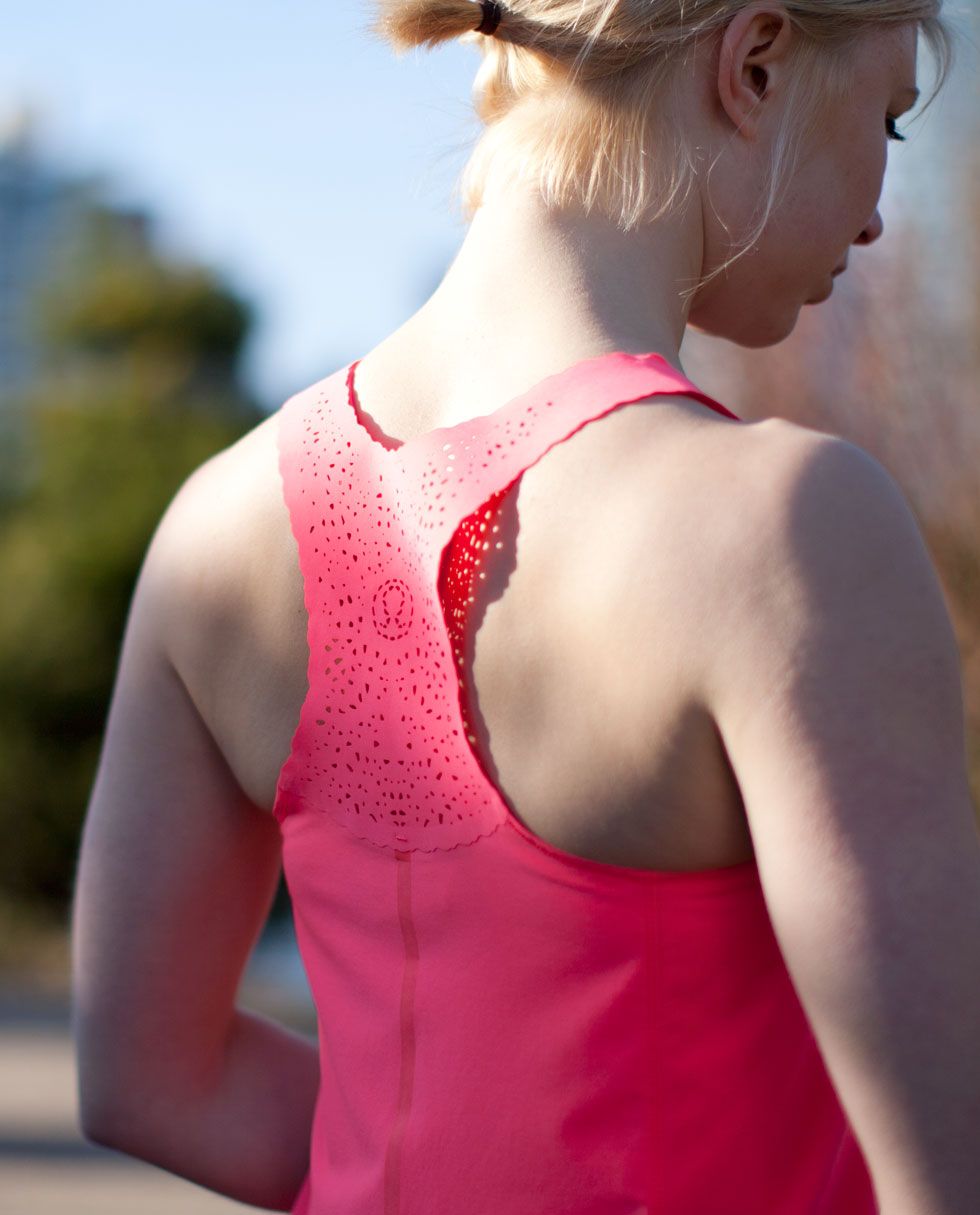 This past week at Pilates Teacher Training we started on the Cadillac. I didn't even know what the Cadillac was, much less how someone would use it for a workout but I found out it's actually not just a brand of automobile. (Although Mr. Pilates himself did name it after that Cadillac.) That little contraption is no joke. What else is no joke? In just over a month I will be a certified instructor. Start lining up now folks.
C'mon, aren't you dying to try this sucker out?
I have never been more excited to have a relaxing Friday night in. We've been exhausted this week, and a homemade dinner, glass of vino, movie and relaxing sounds like the greatest thing in the entire world right now. Followed by quite a fun-filled Saturday. It is the weekend after all. 🙂
What are you most looking forward to this weekend?